Click here to see the latest updates from MnDOT on our upcoming 371 Project.
Sign up for project email updates
About the study
Hwy 371 in Hackensack is planned for construction in 2025.
You can visit the About page to learn more about the study process and view renderings of what the new corridor will look like.
Study details
In 2019 MnDOT began an in-depth study with local stakeholders of Highway 371 in Hackensack to better understand the current and future transportation needs of the region. The study focused on improving safety for motorists, residents and visitors along the corridor between County Road 5 and County Road 40. In collaboration with stakeholder input the project will focus on:
Resurfacing Highway 371 in Hackensack between Cass County Road 5 and County Road 40
Reconfigure the urban portion to a 3-lane section (adding a center turn lane) with parallel parking on both sides
Construct 6-foot sidewalks with curb and gutter on each side throughout the downtown area
Reconstruct the CR 5 intersection with a roundabout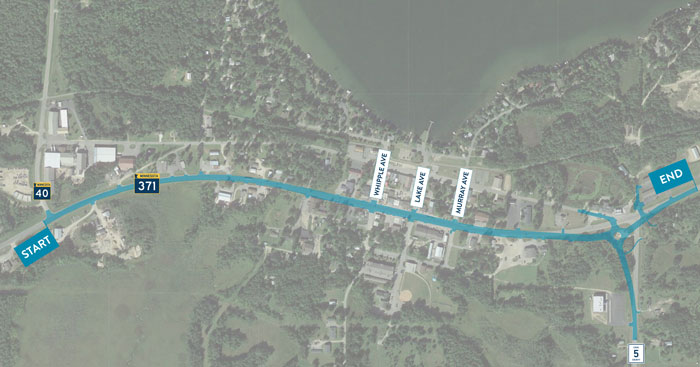 Need for project
Improve the safety of Highway 371 for residents, businesses, motorists, pedestrians and bicyclists
Improve the safety of the County Road 5 intersection
Effectively reduce motorist speeds
Improve sidewalk and pedestrian facilities
Improve underground utilities and drainage
Partnership
MnDOT and its partners have committed to work with the Hackensack community to ensure that the community's concerns and aspirations are directly reflected in the alternatives developed as part of the Highway 371 Study and to provide feedback on how the community influenced recommendations and decisions.